As I've often stressed through the posts here at Samurai Trading, one of the most important elements to trading with consistent profitability is being adaptable to shifting market conditions.  Nothing stays the same forever in the markets.  Price consolidating for days, hours, or even minutes will often lead to an aggressive breakout on those respective timeframes.  Lengthy periods of low volatility will typically quickly shift to periods of high volatility.  We can't always perfectly predict the timing of those shifts - just ask the Inverse VIX traders who got blown up - but they will happen eventually.
As traders we need to be prepared for such events, ready and willing to embrace shifting conditions in order to make the most of them.  More importantly, preparation is necessary to limit any potential risks that come from those changes.  A trader who only thinks of the potential for profit when volatility goes through the roof probably won't be a trader for long.  The one who sees opportunity but makes sure to manage risk carefully is the one that will not only survive, but thrive.

Tweaking My Trading Method
My approach during periods of very high volatility as we've seen in recent weeks is straight-forward.  I expand my default profit targets while still keeping my stops and risk as low as possible.  This means that instead of looking for 1.75 to 2 points of profit on a trade while risking 1.25 points in normal volatility as I typically would,  in these market conditions I'm usually looking for 3 to 5 points of profit right from the start while still keeping my max risk at a very low 1.25 points.  Of course, I'm still going to remain adaptable and if those bigger profits aren't there then I will take a smaller one but there should still be plenty of solidly profitable runs if I'm willing to expand my targets and have a little patience.
You may wonder why I don't expand my stops as well to reduce the chances of taking a quick loss.  After all, if I'm more than doubling my profit targets much of the time then wouldn't it make sense to do the same to my stops?
It's not a bad question and I think there's some cases where it could be a good choice to take on bigger risk but in my experience I've actually found that it doesn't really help the overall edge that much.  We're not talking about small changes in volatility here but major shifts and when that happens the market can get quite erratic at times.  This means that when you take a loss you're often going to do so very quickly in these market conditions and if it comes back more than 1.25 points it's probably going to go to 2 points, 2.5 points, or even completely reverse during a whipsaw.
The Impact on Trading Expectancy
After going through these cycles numerous times I've found I have the best overall trading expectancy when I let my profits run if the price swings are large while keeping my losses as small as possible.  Your per trade expectancy factors in not only your winning percentage but also the average size of your wins or losses, so it may be the case where it makes sense to win a bit less often if it means a greater expectancy and profitability overall.
Expectancy = (Probability of Win * Average Win) - (Probability of Loss * Average Loss)
In my case, I know that by keeping my stops at 1.25 points in high volatility conditions that I will probably take a higher percentage of losses than normal.  That's just the reality of volatile markets with tight stops.  As I mentioned above, it's also worth noting that in these conditions it wouldn't be unusual for me to take more losses whether I had a 2.5 point or even larger stop so I'd rather keep those losses as small as I can.
On the winning side of things, I know these conditions can allow for far stronger swings and greater profit potential so it's best to adapt to that reality.  I might win a bit less often but those average wins are considerably larger.  This means the left side of the expectancy equation above typically gets increased by enough in high volatility to more than cover added losses which means greater expectancy and profitability overall.
Recent Results in Context
To better illustrate some of the concepts presented earlier it may be easiest to take a look at some of my trading this week.  As you can see in the table of weekly results above it was an exceptional week overall but it certainly wasn't because I didn't take losses.  In fact, Tuesday was a difficult day where I got whipsawed a bit and ended up with a loss overall.
Every week can and will be different, but in normal market conditions I typically achieve a higher win rate than I did this week.  Most months my win rate ends up somewhere in the 60-70% range but during this week I only managed to win 50% of the time.  Considering the volatility I'm actually very pleased with that!
As we talked about before the market can be much more erratic in these conditions and more prone to whipsawing so some quick losses are to be expected.  It's not easy to reduce risk in a market like this through active trade management so you need to be prepared to take a few more full losses than usual as well.
That said, the extra losses were more than balanced out by much larger than average wins.  Over the course of the week I took 20 trades and with 10 wins and 10 losses.  The 10 wins brought in 38 points (152 ticks) and the 10 losses cost 11.5 points (46 ticks).  That means my average win was 3.8 points and my average loss was just 1.15 points.  That makes for an exceptional 3.3 to 1 reward to risk ratio over the week so even if I had taken a few more losses I still would have had a very substantial trading edge overall.
Don't Get Greedy
It's important to remember that these are special times in the market.  It's easy to get in the mindset that this is the "new normal" where exceptional swings and profits can be made every day.  The reality however is no different than it was before February brought us this market mayhem... the market can change at any time!  It may remain like this for days, weeks, or even longer, but it will change eventually.
You don't want to be a trader that lets greed get the best of them.  Remember that adaptability is key so if conditions shift you need to be prepared to shift with them.  That means more regularly taking "normal" profits off the table and accepting that you'll have fewer home run days with big wins.  It's not always easy to do this but it's a big part of learning to trade if you want to be consistent and profitable long term.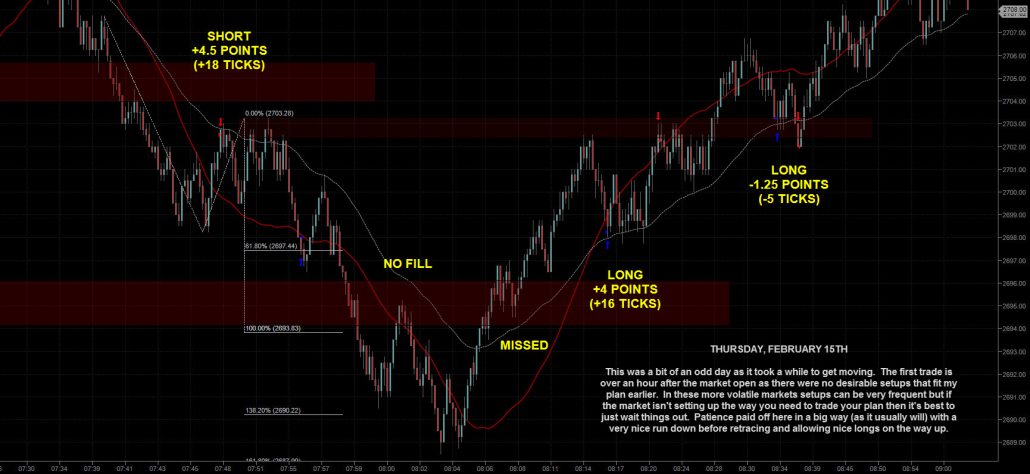 Don't be the trader whose judgement is clouded because they see dollar signs flashing in front of their eyes and are unable to recognise when the market has changed.  Seeing solid trades go 2 or 3 points into profit only to have them come back to a loss because you were still holding out for the big 5+ point swings of a couple weeks ago isn't good for the psyche.
The market is always right.  Watch it, assess its movements and the psychology at play, and trade what you see.  Don't trade off emotion!  The market will tell you pretty quickly what kind of mindset it's in based on structure and momentum so the adaptable trader will always be ready and can simply ride the waves.
Founder & Head Trader
at
Samurai Trading Academy
Cody has over a decade of experience day trading the Emini S&P 500 (ES) and Forex markets and has worked personally with dozens of traders to help them achieve consistent profitability and make trading a full-time career.
Latest posts by Cody Hind (see all)