For some odd reason I've had a massive influx of emails recently from people wanting to know more about my day trading station and the hardware I use.  All right, so maybe I'm embellishing that "massive influx" a bit.  It's actually only been three emails over the past two weeks.  Still, in the past couple of years I've only had one such inquiry so I suppose I should take it as some sort of sign and give a little glimpse into what my trading desk and overall setup looks like from my home office here in downtown Vancouver, BC.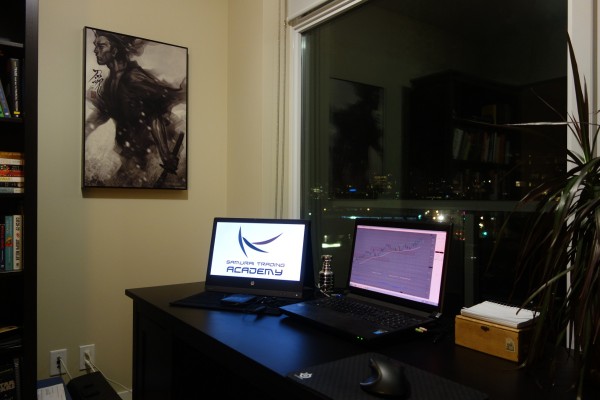 Talk about underwhelming!  Yup, my trading desk is just this simple and basic.  A laptop and a separate travel monitor is all I use, and even the second monitor is just a convenience that I don't really need. It's mostly something that comes in handy with the Live Training classes I run for students in the STA Training Program or when I'm trading on my own I will use it to occasionally check emails or surf the web. So a single screen is all I really need!
Why My Trading Desk is Simple and Mobile
Years ago when I primarily traded Forex things were a bit more complicated.  At that point I was using three fairly large 23" screens and each monitor had 4-6 different charts on it from a couple different currency pairs.  This meant I was watching price movements on up to 18 different charts at a time and when you consider that some charts had other windows for indicator data there were dozens of things to track during a session. Looking back that seems like an incredible amount to me but it's really nothing compared to the kind of information flow some people bombard themselves with.  Just look at some of the trading desks below to get an idea of what some people are willing to work in front of every day!
Eventually I decided that all of this was really just making trading unnecessarily complex and I think the reason why it happens is because we convince ourselves that trading NEEDS to be complex.  We think having more information crashing down on us is somehow better, that it will lead to more opportunities and trades, and that we will see superior results if we have a larger and more complex trading setup.  Personal experience in my own trading business and working with traders of a variety of skill levels tells me that this simply isn't the case.
For some reason these trading desks with a dozen monitors seem to be a source of great pride for many traders so before I get angry emails telling me how successful you are with your massive trading station please note that I commend any consistently profitable trader and congratulate you on your success.  There's countless ways to trade and be successful over the long term in this business so I'm not saying that these hardware setups aren't viable for some.  However, the reality is that we don't really need a desk like that to achieve elite profitability and those multi-screen setups also come with a huge downside - lack of mobility.
The thing that drove me to day trade the way I currently do in the Emini S&P 500 (ES) futures market was the desire to make my career a fully mobile one with the freedom to trade from almost anywhere in the world at any time.  I wanted to be able to trade with just a single chart in a single instrument that offered consistent opportunities for profit even in just a few hours a day and the ES was a perfect fit for that.
My Hardware Requirements for Professional Day Trading
All I really need from the picture of my personal trading desk that you see above is the laptop and even that can be mid-range in terms of price and performance to trade the way we do with the STA Day Trading System.  I've travelled extensively and lived for months at a time in over a dozen countries over the past few years while being able to trade and teach from apartments, houses, hotels, and the odd beach-side pub and having my laptop and a steady internet connection gets the job done just fine.  My laptop is admittedly a pretty powerful one (or at least it was when I first bought it a year and a half ago) but it's overkill for most people.  It's a custom built 15" Sager with a powerful i7 processor, 16GB of RAM, and also includes a dedicated video card that is completely unnecessary for trading.
The only powerful part of that hardware that I personally need is the i7 processor (along with the improved airflow that a quality Sager build provides) because it allows me to more quickly encode the videos I record of our Live Training classes, Recaps, and the Weekly Trade Reviews for STA students.  If not for that requirement I would probably seriously consider purchasing something quite small and lightweight like the Surface 3 or the newly announced Surface Book.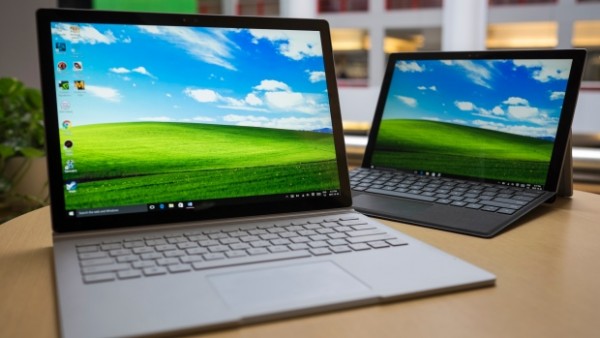 As mentioned earlier, the travel monitor is just a nice little addition for quality of life that isn't actually required.  The model is an HP U160 and it's one of the few pieces of hardware I've used from Hewlett-Packard that I'm truly happy with.  It's specifically designed to be quite lightweight, compact, and doesn't have bulky power cords as it weighs just 1.5 kg and is powered through the USB on my laptop.  It even has a built-in protective casing.  If you trade while travelling but still like being able to multi-task a bit when waiting for your next setup then having something small and portable like this is fantastic!
That pretty much sums it up.  My trading desk is simple, efficient, and keeps the information flow I'm presented with while trading to a minimum.  Having a trading setup like this allows me to trade off a single chart on a single screen with all the mobility and flexibility that provides.
Nobody really gets into the trading business because they want to try to follow dozens of charts on numerous screens every day.  It's mentally and emotionally taxing, keeps you in a single office setting constantly, and the sheer information flow risks trader burnout over time.  So why not break from that mentality, focus your charting and trading, and keep your overall approach simple and clear?  Speaking from experience, making the shift to simplicity is well worth it - now time to plan another trip!
Founder & Head Trader
at
Samurai Trading Academy
Cody has over a decade of experience day trading the Emini S&P 500 (ES) and Forex markets and has worked personally with dozens of traders to help them achieve consistent profitability and make trading a full-time career.
Latest posts by Cody Hind (see all)